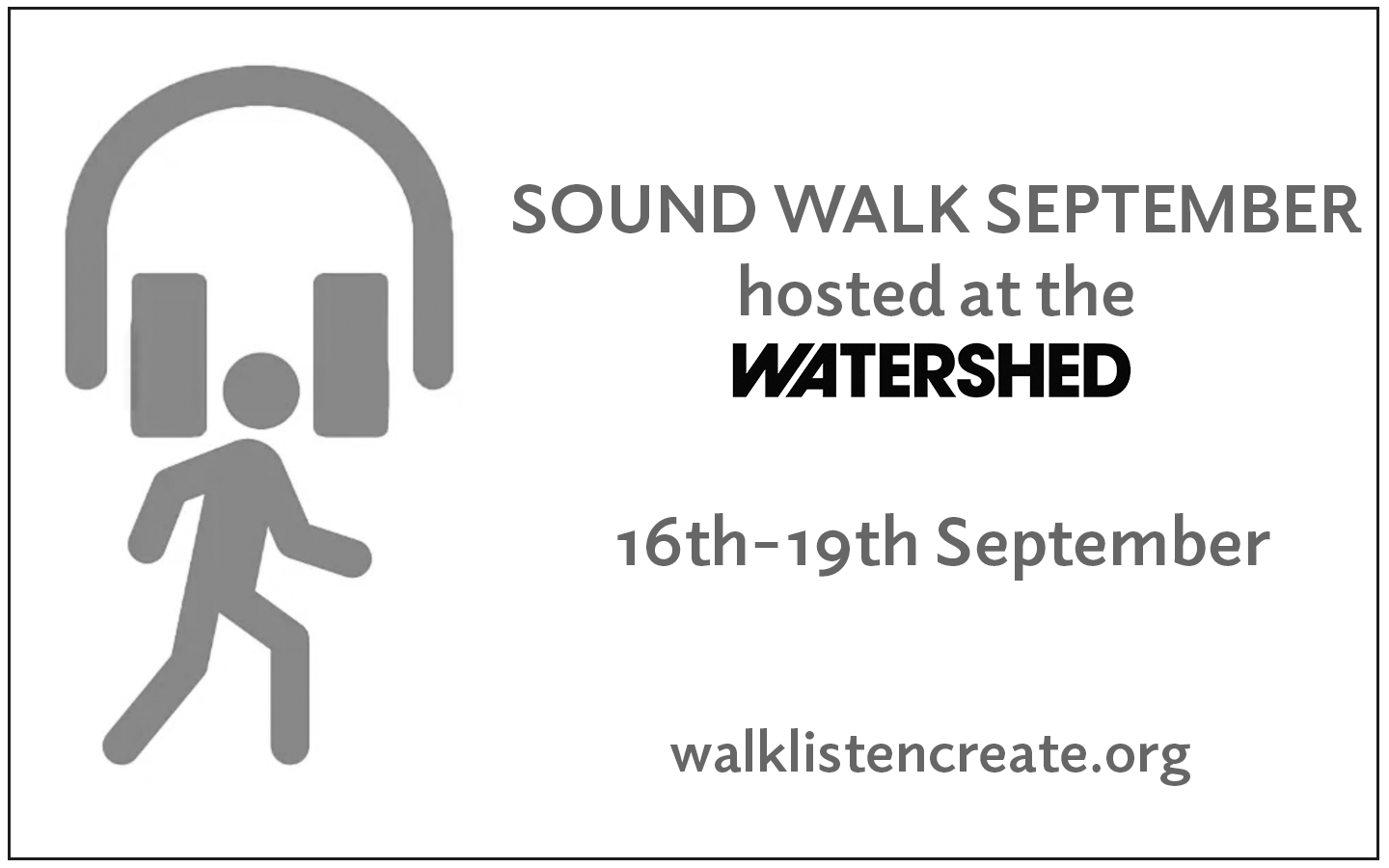 In the lead up to COP 26 and as part of Sound Walk September Duncan Speakman's augmented audio walk Only Expansion will be hosted at Watershed alongside a range of works and experiences exploring cultural responses to ecology and climate change by artists including Kathy Hinde and Katy Connor.
From hydrophone listening walks to visual exhibitions and guides to a range of sound walks in the South West, come and visit The Workshop at the Watershed (entrance is along from Watershed main entrance, next door to Mackensie's Bar) between 2pm-7pm from Thursday 16th-Sunday 19th Sep. We'll be updating this page over the coming days so do check back…
ARTWORKS AND LIVE EVENTS
ONLY EXPANSION - Duncan Speakman

16th - 19th : 2 - 7pm

Award winning immersive augmented audio experience Only Expansion remixes the sound of the city around you to experience sonically how your own life might change in the future. A beautifully made guidebook prompts you to explore the city, choosing your own route, while headphones with customised electronics capture and manipulate the sounds around you. Field recordings of climate collapse blend into your surroundings, you begin to hear your city as if it was under water or beaten by dry desert winds. A visceral and poetic reflection on what it means to live on a planet in crisis, Only Expansion connects the here to the elsewhere, letting you experience our tangled ecology through sound Book tickets here
RIVER ECHOES DEEP LISTENING WALK #3 - Kathy Hinde

16th September 6pm

Join artist Kathy Hinde on a walk to listen to Bristol from an underwater perspective using hydrophones. Contemplate Bristol's unique tidal range (the second largest in the world) from an edge point of the city, demarcated by a shifting watery passageway carving a space between the urban and the rural, the Avon gorge. Kathy will be joined by a guest from Underfall Yard Trust, who will share insights into the work that happens every day to help prevent Bristol from flooding due to the high tides. More information and booking HERE
RIVER ECHOES DEEP LISTENING WALK #4 - Kathy Hinde

19th September 2pm and 4pm

Join Bristol based artist Kathy Hinde, and Marine Scientist Dr Sophie Nedelec from Exeter University. Kathy will lead a walk around the harbour with regular pauses to listen from an underwater perspective through hydrophones, and Sophie will share insights from her research into the soundscapes of the ocean and the effects of anthropogenic noise on marine life. More information and booking HERE
HYDRO-POETICS - Katy Connor

16th - 19th Open 2pm - 7pm

Visual artist Katy Connor will showcase recent artworks that explore the practice of hydroponics: the art of growing plants in a chemical solution without the use of soil. Katy's work offers a fresh way of engaging with the ecologies of food production, technological arts practices and community engagement with nature. Pop in to see one of Katy's living hydroponic systems, plus a series of evocative, automatic chalk drawings, created in response to the plants.